- Edition 6, Chapter 7 -
---
Dutch hairdresser Christiaan worked at his father's barbershop starting at age 11. After serving in the Marines, The Intercontinental Hotel in Curacao hired him at the salon where he worked on singers and dancers imported from the US. Mrs. Kurtzweill, married to the president of Esso at the time, took a liking to him and contacted the editor of Glamour Magazine in New York who thought she was Mrs. Kurt Weill, the singer Lotte Lenya; by that simple mistake he got invited to New York where Glamour sent him each day to experience a different salon – Kenneth, Michel Kazan, Vidal Sassoon: "The way the clients were received and the attention, the food, and the drinks, and the poodles – for a kid like me, I'd never seen anything like that," he says.
Back in the Netherlands, seeing the world made the idea of taking over his father's shop a moot point. Christiaan worked briefly with a well-known hairdresser and got his first taste of editorial styling working at fashion shows. But New York beckoned, and soon he was doing hair for fashion and beauty editors at Bergdorf Goodman – "a young stud going out with the mannequins of the day and the singers and stuff like that" – and became creative director, accompanying actresses and models to shoots. He then embarked on a freelance career, working with those editors whose hair he'd done, and met photographer Arthur Elgort. Calvin Klein, Bill Blass, Donna Karan, Giorgio Armani made him their go-to stylist, and Rei Kawakubo of Comme des Garçons brought him to Paris to collaborate.
At 61, Christiaan enjoys an active and enviable career, and made these drawings for us and their accompanying stories. "My great luck in those early days," he writes, "was to be a friend of Antonio Lopez, the indomitable illustrator, and he taught me to freely and quickly draw an attractive profile. Pencil in my hand, my hand in his hand, repeat, repeat, and repeat until I got the hang of it. I would then mark the hairline and take it from there. Numerous of those drawings ended up in the "Hair Now" column of American Vogue and Mademoiselle magazines."
See Christiaan's hairwork (bookwork, claywork, woodwork, and wordwork) at hairbychristiaan.com.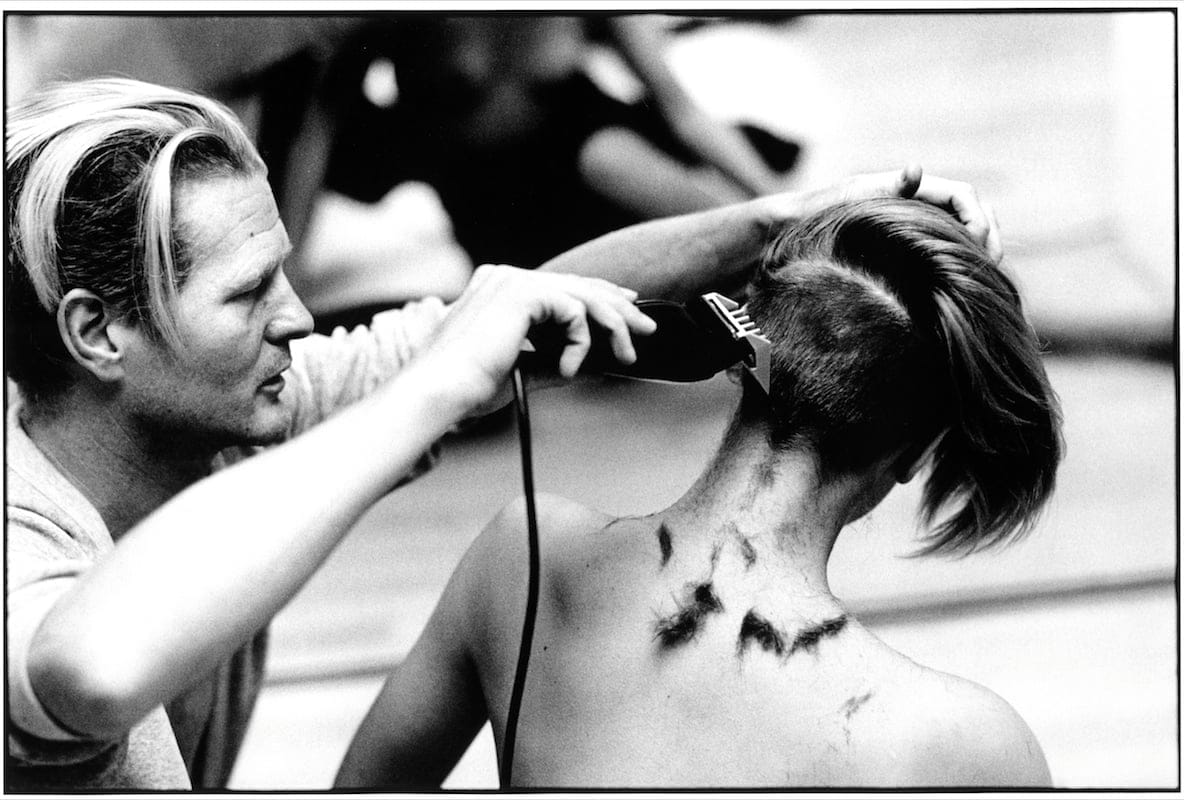 THE BUZZ rolled off my hands one evening in Paris – the minute I got out of my car from a day of work. I had seen two separate people on the ride that spawned my imagination. For years I have understood that new images of heads and hair would come from breaking up the whole. The whole meaning how hair was styled as a single unit for so many years in modern society until the "Buzz," now called the "Undercut," drew on separate sections within one head. Each section treated entirely different but with the aim to create a balanced whole.
On that ride that evening, first I spotted a beautiful Asian lady on a bike. Sides and back fully shaved while on top sporting a gorgeous long tail of shiny black hair streaking in the wind. And then a young African man crossed in front of the car who had had a simple composition of shaved lines across his head with the patches of hair in between strictly shellacked down. In this drawing I put it all together to image a three pronged style. They did not call me an ethnic snatcher for nothing in the '80s!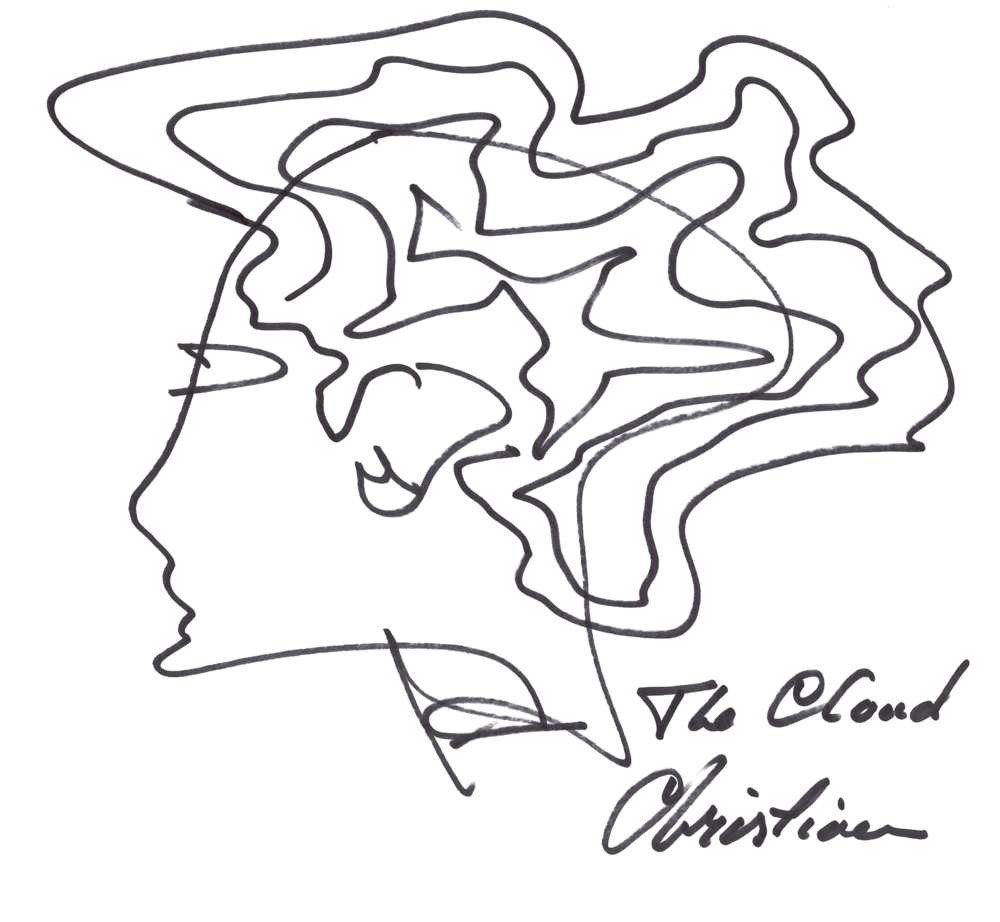 THE CLOUD!
Such a familiar word now. Just not for hair. 20 years ago a neighbor brought his 5-year-old daughter over who had never yet cut her hair. Japanese/African roots, she truly had the softest cloud. Terrified as she was, I made a point to not touch her in any way. So my scissor simply went in and danced around her head without ever touching her scalp. Nor did my hand need to touch her head. Like shaping a cloud. It was a magical feeling and a unique moment for me. She lost her hair without shedding a tear of fear. She just let it rain hair with wonder on her face, because she could not feel the act of it being cut.
These days cloudy hair has virtually disappeared in real life, but in the '50 and '60s it was alive and well on black and white hair. Think Soul Train and Nancy Reagan. Today white hair is more uniformly a downward pouring of rain. Yet it is great to see clouds coming back in black hair all over de globe. And with it, the infinite variations a cloud beholds. Right on. Power to the Cloudies!
THE SLIT is, was, and will be one of those ideas that I just can't get out of my head. It will not become a trend or a fad, but it can have a purpose to be discovered differently by each. The most universal hair control grab is two hands up the sides to bun or ponytail it. The most universal variant is to Mickey Mouse it into two parts. And so this was born to be a guide.
Besides, the back of the head is a kind of no-man's land, or better said, everybody else's land – not yours; you can't see it. Yet, the feel of a sliver of buzz, hidden, is super-sexy. And then it blends away or is colored to remain a mark as it grows out. Try one; it's on me.
It's a bit redundant to draw GRACE JONES' hair now; everyone knows that one. But when I first cut it, it was like going into the unknown. The Buzz cut was still years away – that's when a drawing brings focus. It was 1979. She had been a friend and neighbor for a few years by then. There were no meetings or discussions beforehand, just a midnight yell across the courtyard from her bedroom to mine: "Christiaan! I want a haircut!"
And however unknown, it must have been within the realm of my hair mind – as in, "OK, I can go there…," even though I didn't even have clippers in the house and did it with scissors and a disposable razor. Try that on a moving Diva. Then, Carl Lewis the Olympic sprinter showed up with it. Bingo.
The thought of ARCHITECTURE did not come to hair until Vidal applied it. Until then, with the possible exception of the flapper days, hair was in puffball territory. I was a Dutch marine when he put it on the map, so I don't think I was directly infected by it then. But it certainly started me thinking of hair in more graphic terms.
I began to draw hair lengths, layers and shapes radiating from within the profile of the hairline. For me it was and still is a perfect way to visualize the invisible, the inner structure, the architecture, if you will. As time went by I thought it was a direct line to Vidal's sense of the architecture of hair. So cheers again to our man in hair heaven.
---