Salon Spotlight: Bow & Arrow
We spoke to Kellyn Anderson, color magician, educator, and owner of Bow & Arrow Salon in Boston, Massachusetts about the importance of good leadership, a good coach – and good vibes.   
Tell us your story. How did you become a hairdresser, and what does your career look like?
My mom remembers me playing with dolls' hair, cutting my own growing up. When I was around 14 I started going to a hairdresser and I just fell in love with what she was doing and why. I wanted to learn more about hair, and when I graduated high school I was pushed by my parents to go to college first. I went for a year, and I knew it wasn't the right fit for me. I started looking for hair schools, and there was an Aveda Institute that had just opened up in Indianapolis – I grew up in that area, and I said, 'Mom, this place is awesome, it's exactly what I see my career being; it's high end; it's beautiful, and I'm ready. I wanna do this.'
That was about 13 years ago, and I have been on this path ever since. I started educating at one of the salons I worked at. I started traveling, going to New York to Bumble and Bumble University, and I was in love with learning. I opened my own salon, Bow & Arrow, four years ago in May, and we've evolved a lot since then, and it has taken me on a path I didn't expect, but it's been a really great one.
What would you say to parents who are having reservations about a child who wants to be a hairdresser?
I would say that it's not about doing hair and living paycheck to paycheck. It's a beautiful industry full of opportunities, and you don't have to pick just one. We get to make people feel really good, but you can also evolve in business and marketing. The possibilities are endless, just like any other industry.
Describe the philosophy and the structure of Bow & Arrow.
My business partner Jill is an aesthetician. We originally opened Bow & Arrow as a collective in a space where we could create a good vibe together, and work as much as we wanted to in a safe, beautiful place for clients. As we evolved that shifted; our mission hasn't changed, but we started attracting stylists who needed more guidance and support. I decided to step up and become more of a leader, and we changed our business structure and became a commission-based salon.
Our philosophies are still the same: We believe beauty is more than skin deep. We believe in giving back. We believe whoever is in our chair and on our team is a direct reflection of ourselves. We surround ourselves with people with the same missions in life. 'Good vibes' is part of our thing, and luckily we attract really amazing clients and team members because of that.
I have been working with a business coach who has helped me define our brand and culture really well, and I started stepping back from behind the chair, so I can actually lead the team and help them grow.
You had a recent expansion, correct?
We went from one chair in a small studio space to four. We have a spa room now. I had hired Kayla and Jenny, and I worked with Kayla one-on-one until she took over half my clients. It was really rewarding for me. I started to love that education role being back in my life.
You said you're going to be behind the chair less often. How will you balance your new roles with keeping your hands in what you enjoy?
I have thought a lot about this. It was a very slow transition. I went from four days behind the chair double-booked, to four days not double booked, to three days, to two days, and that's where I'm at right now. I'm an independent educator, and I base all my education on technique and theory. I get to promote my own classes and teach with my other educator friends. We work really well together, and we book classes through social media. I'm doing hair and educating.
I needed more space to give my team 100% instead of giving my clients 100% attention. They need more of my mentorship during the day, so I jump in, I get my hands dirty with them. I'm foiling with them. I'm painting with them. I gloss with them. If they're behind I'm blow drying. I'm cutting, I'm curling…
…she's doing it all!
I'm doing it all, and I jump in wherever they need me, and if I see they're doing something they could learn from or do differently I'll just be like, 'Oh my gosh, let me show you something.' That's the type of vibe we have. We're a very education-based salon. New stylists come in and shadow us, and we make sure it's a good fit for them, because it's definitely not right for every stylist out there.
It sounds like you have it well considered, and you sound really excited about it.
I always say that I've gotta make space to create change, but if it doesn't work I can always go back and try something else. If I need to take clients again, that's totally fine too.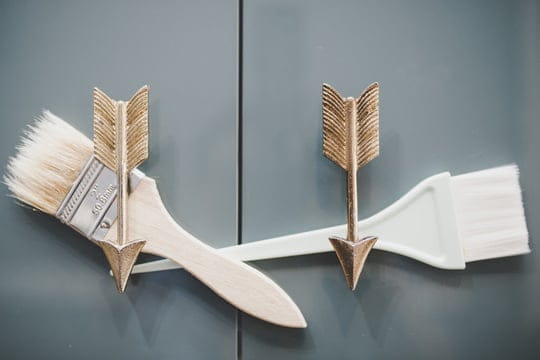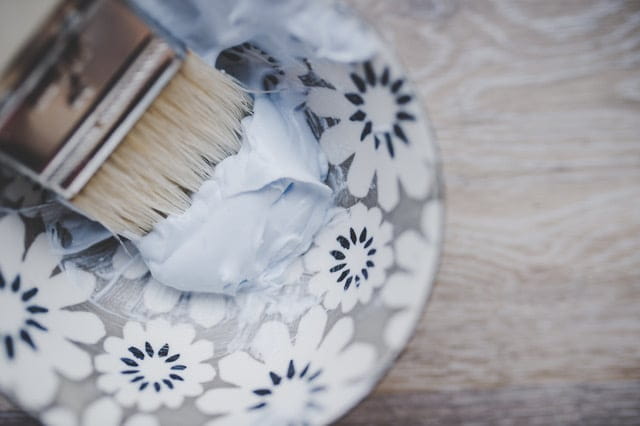 You have a very a color-focused studio.
We are color focused, but we do cutting as well. I have always specialized in color, but I have never departmentalized, and I started taking cutting classes to push myself, to be more confident. But I don't have the education to really teach cutting to my staff in the way they need, so I just hired someone who is going to help grow Bow & Arrow education. Max is an amazing hair cutter and one of my educator colleagues who I fly around the country with. We have a really good flow together.
Your work is so distinctive. Tell us about the development of your own color aesthetic and technique.
Even when I first started, I wanted color to look really natural. When I was first taught how to foil, I was finding ways to diffuse the lines; I didn't want to see stripes. I played around a lot with color, and before I knew really color theory I would do lots of different-sized weaves, and I would paint things and put color between my foil. I would play around with glossing.
I became a blonde specialist because my foils didn't look like other people's, and then I started playing with vivids. I worked next to a Starbucks, and I would grab the girls in there on my days off and play around with hidden placements, peek-a-boos, tips. I wanted to make it wearable and versatile. It just kind of grew from there.
Then I started playing around with painting about 6 years ago and taking as many classes as I could. I never really loved the double-processed look when the vivids would grow out with a really hard line, and then fade out in patchy areas because of the porosity. So I started developing my own style of foiling brunettes and blondes to a place that their foundation was really beautiful and then creating a vivid placement on top.
I would melt colors from dark to light, and place three or four colors where the blonde was. I realized that with natural color built in, the vivid color just adjusted the highlights. That was everything to me, because it could fade out beautifully. My favorite thing to do is prime the hair, make it perfect, and then have some fun on top of it. Even when we're glossing and creating custom colors, they're getting a different color on their fringe, then melted down on their base, and then the crown area.
Do the energetic or emotional qualities of color factor into your decision making?
Definitely. I talk to clients about their wardrobe and their makeup palette, and about colors they're attracted to, and I like to know why. What do they feel they're best in? What does red mean and what does yellow mean? What underlying energy do we get from a color: Excitement? Calming? Yeah, it goes hand in hand for sure.
Let's talk about Hairstory for a moment. How did you find us and what made you say yes?
When I was the only hairdresser at Bow & Arrow, one of my vivids clients was a licensed hairdresser from Austin, Texas, and she said, 'You know, there's this product line that's so up your alley. You have to check it out.' I immediately looked up the website, got connected, and I loved everything about the story, the mission, the packaging, and the first time I used New Wash I never looked back. Because I fell in love with it, all my clients fell in love with it. The first thing I do with every new team member is give them a bottle. 'Get to know it. Use it in your hair, because this is pretty much all we have on the backbar.' It just works.
You've taken a stand. Talk to us about New Wash and color.
New Wash doesn't strip out color in any way that a detergent can. I educate my clients that this is a pH-balanced wash and that even some 'color-safe' shampoos aren't pH-balanced. You don't have to worry about buzzwords like sulfate-free because it's not a detergent at all. There are so many buzzwords out there that even stylists don't know what they mean. Some colorists don't understand balancing pH after color, and how may washes that might take, and closing down the cuticle properly, and proper care at home within the crucial 24 hours. It's all about knowing your product line inside and out.
It's also valuable during the color process, true?
Very valuable. It is conditioning but it is also cleansing. That was probably a question I had in the very beginning now that I'm thinking back. Is it gonna take the color off? Is it gonna stop processing? You don't think of conditioner or its texture in that way. But it does. It cleanses, it does everything. We've realized that when clients come back their hair still looks really good.
Talk a little bit about the business model of Hairstory and how it works or doesn't work for you.
I love the business model. I love that my clients can order online. They love that they can order online. We're still getting credit. They love to know that, and I love to share that because I think it's a wonderful part of Hairstory's business model.
I allow the girls to have their own accounts and totally support them in building their own clientele. I like to say when you're a Bow & Arrow client you're a Bow & Arrow client. You're not a Kellyn client, and I really want everyone who walks in the door to get the same experience out of everyone's chair.
Who are some of your hair heroes?
Oh my gosh, that is such a good question. Every time I meet an educator I'm blown away with how little I know about hair, the industry, life, everything. I can't sit here and name one because these last few years I've learned so much from so many people directly, and I feel like I have such a long way to go. Max, our new development director has really opened my eyes up to how big the industry is, and he's worked for every brand under the sun. He's educated onstage platform artists, and he's probably my biggest hair hero to be honest because he's just helped me see so much more and want to learn so much more.
What are your observations about the changing hair industry?
Traveling as much as I have been, and educating across the country, I see how different the structure of salons is from the west coast to the east coast. It's interesting how independent California is, and in Boston it is the complete opposite. The independent movement is wonderful; the suites that have popped up are a great thing for some stylists, but also a great lesson for others. Not every stylist is a good business person or wants to grow in that way.
The reason I stepped up to this leadership role is a need for better team environments and better leadership. It all starts at the top, with the owner, their vision: Can they really grow to lead the team, be a constant source of inspiration, a mentor, an educator, delegate everything else and learn about business, about life? Self-awareness and communication is everything.
I have learned so much about myself these last two years by working with a coach who is about self-empowerment. It has changed my whole business and my thinking in a great way. It's all about the relationships we build with our clients, the experience we give them. I can continue to grow myself to help my staff see that. I want to grow leaders. I want to grow inspired people. I am focusing on my culture, and my brand, and how to be the best we can be. Every decision I make, it goes back to our mission, and who we are. It's pretty easy for us to make decisions.
Because you've got the proper filters in place.
We do now. I didn't really in the beginning. Now there's a lot more awareness. That's been a great journey for sure.
Well, your parents must be proud.
Yes. They are both very proud.