Top Haircut Trends for Women
• • •  STRAIGHT, NOT NARROW  • • • 
Go bold. Liberate yourself from long haircare chores
and enjoy a carefree summer with super-short sides and a choppy top.
Cut by Wes Sharpton (@wessharpton for @hairstorystudio)
Less drastic but just as dramatic:
Go for a short, sweet bowl cut with round baby bangs
to open the face and frame your gorgeous features.
Cut by Beau Bollinger (@beaubollinger for @hairstorystudiodallas)
You don't need waves to make a shag work.
Shorter layers can add volume and movementto straight hair too –
and bangs and side bits set the frame for the face.
Cut by Jayne Matthews (@jayne_edosalon)
• • •  THE NEW WAVE  • • •
A strong bob is the rare classic that is always on-trend.
Releasing length and weight encourages waves to come out and play.
A less-than-blunt bob creates an effortless vibe – bangs or not.
Cut by Stacy Hall (@stachallhair)
Deep and wide bangs with longer layers that graze the jaw
make a strong style statement and allow waves to come alive.
Cut by Casey Konstantynowicz (@gayhairday)
A shag with shorter bangs gives volume a boost, opens up the face,
and directs the eye upward and lifts the mood to suit the season.
Cut by Jayne Matthews (@jayne_edosalon)
• • • CURL POWER • • • 
A layered bob with dancing bangs releases the weight
that drags curls down, and bangs brings a little "jeepers" to those peepers.
Cut by Remy Moore (@remymoore)
Maybe you love the volume that a chic shag creates but you're not quite
ready for the big bang. Try this shape with dangling 'curtain' bangs
(you can always go shorter when you're ready).
Cut by April Kayganich (@_thehalfrican)
Round things off and soften sharp corners with layers that
lighten things up and direct hair away from the face to open it up.
Cut by April Kayganich (@_thehalfrican)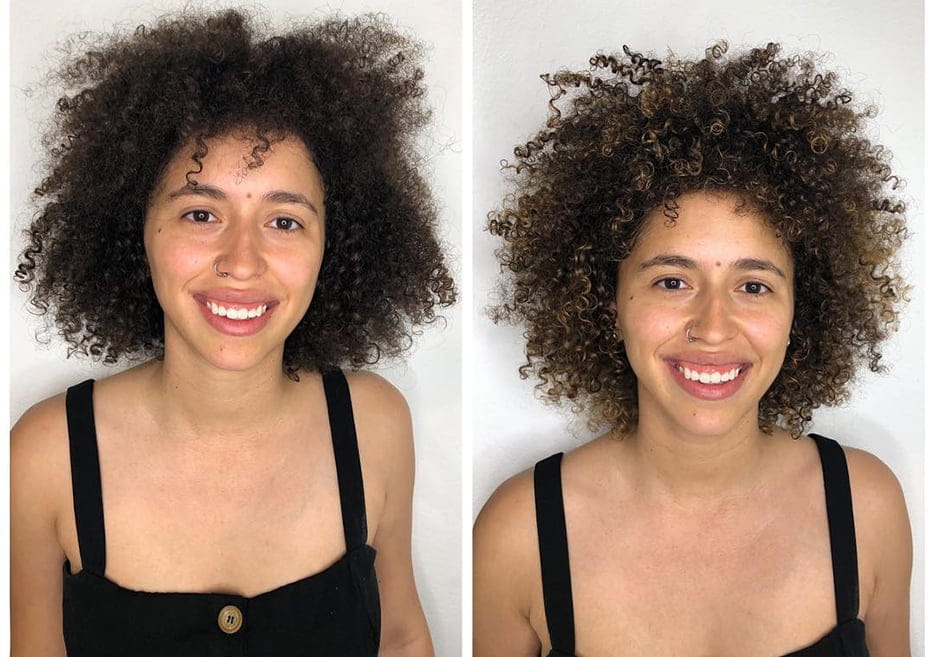 For our 4-a, -b, or -c friends (you know who you are)
go for short on the side to add strength and just a touch longer on top
to bring out the curl – strong yet still soft.
Cut by Wes Sharpton (@wessharpton for @hairstorystudio)
The classic afro – a classic round shape that looks cool, calm
and collected – is tapered down the sides to extend the cheekbone lines.
Cut by Wes Sharpton (@wessharpton for @hairstorystudio)
This look reimagines a 1940s updo as a modern haircut –
perfect for the 4-family of curl – cut close on the sides while
keeping the top full, long, and round.
Cut by April Kayganich (@_thehalfrican)

• • •
Following trends is fun and celebrities are seductive,
but don't be led astray when it comes to looking in your own mirror.
Take inspiration wherever you find it (here, we hope)
and make it uniquely your own.

Bangs are booming, bobs are back (they never went away) and shags show up everywhere. Today's haircut trends are far more inclusive with something for any texture, and here we take them off the red carpet and send them right up your alley –
whether you're an 'it' girl or the girl next door.