- Edition 6, Chapter 4 -
---
Editorial hairstylist Dennis Lanni's world is a whimsical, enchanting place where hair is not just hair, but a limitless medium with which to create. In Dennis' presence, objects become an extension of the human body; everything is colorful, vibrant, larger than life. Music is loud – and it rocks.
The son of a New Jersey barber, Dennis fell into hairdressing after spending time in his father's shop throughout his childhood. He made his way to hair mecca Bumble and bumble to pursue formal training and from there began a successful editorial career. He has worked with photographic heavy hitters Guy Aroch, Terry Richardson, and Ellen Von Unwerth, among others, and has seen his work published in magazines from American Vogue, to Harper's Bazaar, W, and Rolling Stone. But what's most captivating about Dennis isn't the credentials, but rather his incredible energy. He is not only a joy to have on set, cracking jokes, and singing along to his playlists, but he spreads that joy to others. Watching him work, it is clear that for him hair is the ultimate form of expression, and that nothing makes him quite as happy as creating. Because of this contagious energy, it's only fair to describe Dennis from the perspectives of some of our team who have observed him in action several times, and are still hypnotized by his presence in the studio.
MEAGHAN HOUCK: HAIRSTORY FILMMAKER
"Prior to my first time working with Dennis, I had only seen photos of his work and heard stories about not only how innovative he is, but how fun he is to work with (or even just to watch). Working alongside him and filming everything he did far exceeded any story that could be told. As a filmmaker, I don't always "get" hair, I just know what looks interesting and what doesn't. There's not a minute of Dennis's process that isn't interesting.
To me, "hairdresser" seems a limiting term to tack onto his name – he's an artist, a creator, someone whose way of thinking could be eye-opening to anyone who makes beauty upon the canvas of their choosing. His ideas come from exploring things far outside the world of hair. For example, he knows that for a period of time in 1943, pennies were made of steel. Because they're the only pennies that can stick to a magnet, that means he can pin a model's hair, attach magnets to the pins, and then attach steel pennies to create a coin wig. Maybe it's just me, but that thought process on its own is inspiring.
On a final note, his taste in music is amazing. Anyone who listens to Bob Dylan while creating is probably creating something great."
BETH SHANEFELTER: HAIRSTORY HAIRCUTTER AND STYLIST
"You realize immediately upon meeting Dennis that his creative genius never fully turns off. His kit is packed with the embodiments of inspiration: pocket knives, yarn, storybooks, guitar strings, Barbie heads – discarded tokens of daily life ready to be turned into magic. What I find most interesting about his work however, is ultimately how simple it is in execution. Every look, whether more traditional or less conventional, begins with building a solid foundation. I always assumed that executing these styles would be a time consuming endeavor, when in reality, he can transition through looks in a matter of minutes off of one basis. It was a great lesson for me to see that creating something beautiful and attention-grabbing doesn't have to mean overworking the hair. It's a matter of planning and building to set your look up for success."
CAT MEYER: HAIRSTORY PRODUCER AND COLORIST
"I met Dennis early on working at Hairstory. He's done five shoots with us and for the last three I've had the luxury and the pleasure of being the producer and occasional model. He's incredibly talented, and such a character. I think people might see that big personality initially, but they don't always realize what a brilliant artist he is and how simple his work actually is. As complicated as it looks, the basis and foundation is always really great hairdressing, and he can instantly transform a girl on set. When he has styled my hair, he's gotten as many as eight looks, which is crazy considering that I have short hair (for example, setting it and then attaching chewed bubblegum coated in in oil to keep it from sticking. Only Dennis would I trust to put bubblegum in my hair!) He's just so much fun, you can't help but want to be around him and watch him work, whether you're a hairdresser or not. His work really reflects his personality, and there are so many bags of tricks, but at the heart of it he's an extremely talented hairdresser who understands the rules so well that he can break them effortlessly."
REMY MOORE: HAIRSTORY HAIRCUTTER AND STYLIST
"When I first saw Dennis' work, I was a teenager and just discovering hair; I was fairly obsessed with him. Someone showed me his work in a magazine, and I had to look him up on my computer and ended up falling into a black hole of Dennis Lanni. I remember that when he came into one of the salons that I was training at, he stuck out like a sore thumb in such a great way, and I really couldn't take my eyes off of what he was doing. It was the kind of hair that I wanted to be doing.
When you look at Dennis and his body of work, it seems like such a paradox. He's such a "guy" and the polar opposite of what you think a typical hairdresser is like. I think what makes him so special is that he will try anything; nothing is out of reach. It's really his fearlessness that I admire."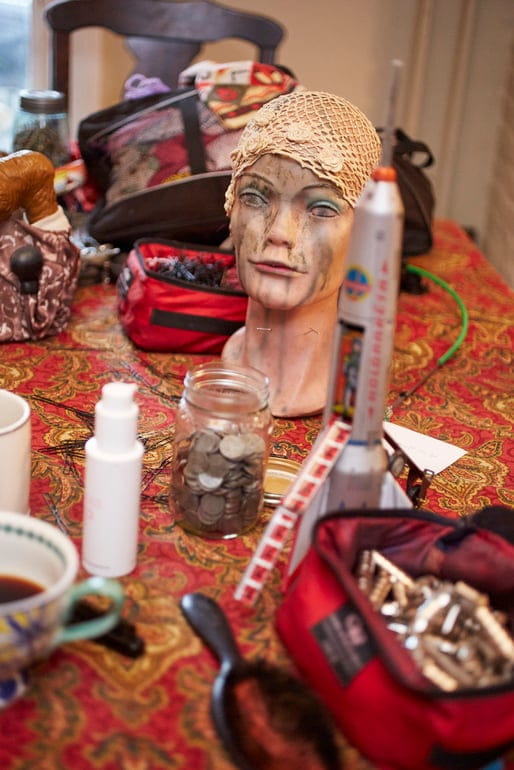 GINA SCHIAPPACASSE: HAIRSTORY PRESS LIAISON AND SOCIAL MEDIA DIRECTOR
"Dennis is pure magic. His work is stunning. His creative process is captivating, and his energy is always positive and contagious. As a visual artist myself, I find working with and watching Dennis absolutely empowering and inspiring. Here's this person who's able to just play, to really let loose and go wild, but still maintain this delicate sense of control; it's really phenomenal. In his work, Dennis is able to capture this childlike sense of wonder and combine it with such sophistication, which I think is really the ultimate for a creative. It's incredibly hard to preserve that part of ourselves that is pure and unself-conscious, and I think he does such a beautiful job. It's what makes him so magnetic, and so completely unique."
MICHAEL GORDON: HAIRSTORY FOUNDER AND PRESIDENT
"Being the Hairstory photographer, I always remind people that if the hair isn't telling a story, there isn't a photograph. I work with certain constraints in that the photos have to be portraits, they have to show off the hair, and I only shoot in natural light. We don't work with professional models, which is why I tell the hairdresser that it's the hair that should make the picture. I don't make things up; I just shoot what's in front of me. What's this got to do with Dennis? He's the most extraordinary, creative, unusual, and interesting stylist, and he doesn't just make a picture, he creates an atmosphere.
The last time Dennis was in the studio, we used a fantastic model, Stella Rose Saint Clair, and our own Cat Meyer, and it was an endless procession of insanely creative and unusual hair. I took (immodestly speaking) really great pictures because it was so easy. Dennis is very atypical in the fashion industry, which makes him and his work even more interesting. He just takes hair and makes magic. It's such fun to work with him because I don't have to entertain the model; I don't have to do anything, I just take what he gives me. You can pick any angle and get a fantastic shot. There's no frame of reference that you can identify when working with Dennis; it's not about fashion or what was in Italian Vogue, it's just whatever comes out of his head – and out of his fantastic bag of tricks. I personally love having him here in the studio."
---